InStock - Essentials Map for the COVID-19 Pandemic
Apr 6, 2020
There I was, staring at yet another empty shelf in yet another pharmacy, as I was attempting to buy a digital thermometer and some fever reducing medicine for my family. Being told time and time again by store reps that these essential items are currently out of stock and I should look elsewhere.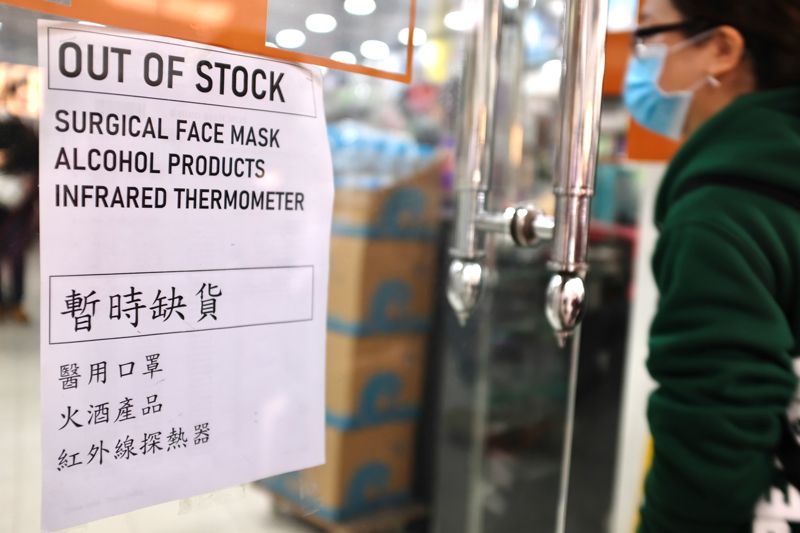 Essentials stock shortages have unfortunately become a reality for most of us during the COVID-19 / Coronavirus pandemic. Emergency essentials we desperately need have gone out-of-stock in many stores due to panic buying, hoarding, and the sudden surge in demand.
Yet there are still stores with these essentials in stock in our cities. But visiting every single pharmacy & supermarket in a city to check if an item is in stock is a tedious, if not impossible task that may contribute to further contagion of Coronavirus.
There has to be a better way.
Meet Amy 🤖
Amy is an A.I. virtual assistant (think Google Duplex) that calls up pharmacies & supermarkets in a given city, asking store reps to confirm stock of essentials, such as:
Pain relief / fever reducing medicine
Cough medicine
Digital thermometers
Hand sanitizer
Antibacterial soap
Bottled water
Canned food
Pasta/rice
Listen to 1 of 1,000 real calls Amy 🤖 made in London to confirm stock:
https://go.aws/2JqVDLB
Here's a transcript of that call:
Store Rep: Hello Sainsbury's local Stannis speaking how can I help?

Amy: Hi. In an effort to help citizens stock up on emergency supplies during the Coronavirus pandemic, we need your help to check the availability of some items at your store.

Amy: Please answer the following questions with a yes or no.

Amy: Do you still have pain medication such as ibuprofen in stock?

Store Rep: No

Amy: Do you have cough medication?

Store Rep: No ...
Once the stock status from various stores in a city has been collected, it is made available on the InStock website.
InStock
On instock.app, visitors are presented with a map of pharmacies and supermarkets that have recently confirmed essentials in stock in their area: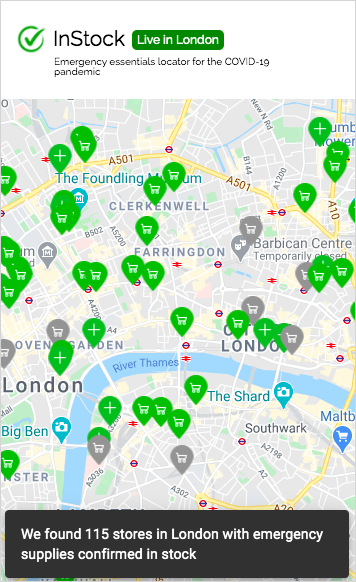 Stores that stock essentials are highlighted in green, where stores without any items are greyed out.
Clicking the stores reveals exactly which items are in/out of stock, as well as when the stock status was last updated, and directions to get to this store: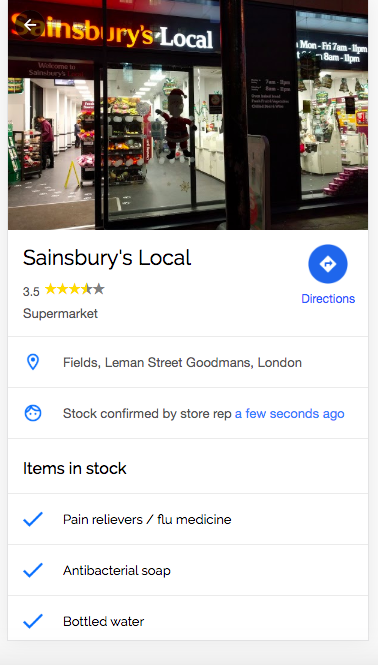 Support this initiative
InStock is currently live in London, and I need your support to expand to more cities with essentials shortages. Calling up thousands of pharmacies and supermarkets in every major city on a daily basis incurs large costs, and these costs only grow with the number of cities supported.
If you are in the position to do so, please donate to support this venture:
https://paypal.me/instockapp