Get a Free C# T-Shirt from Xamarin
Oct 6, 2015
Update: It appears that Xamarin is no longer offering this promotion. Hope you got one while it lasted!
Reference
Xamarin, the company behind the technology that lets you develop iOS and Android apps in C#, is offering up a free T-shirt to whoever installs their SDK, Xamarin Studio, and runs their Xamarin Store app.

Once you successfully run the app (it will launch an Android or iOS emulator, depending on your environment), you'll be able to order a C# shirt. There are multiple sizes (S/M/L/XL) and colors to choose from (Navy / Green).
Xamarin Studio
I personally haven't had a chance to fully experience Xamarin's power yet. I remember trying it a few years back, and I was disappointed with the startup delay for Xamarin apps -- I think it was compiling them on the spot instead of beforehand. However, the situation may have changed recently, so I'll need to try it again to know for sure.
After you order, you'll receive the following confirmation e-mail.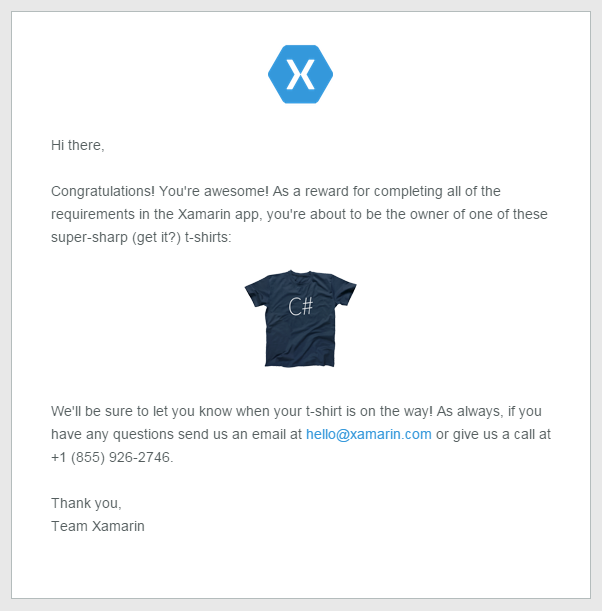 I think this is a pretty cool way to get developers to try Xamarin. And I personally can't wait for my T-shirt to arrive.